I'm glad you've made it this far… Now let's get the paper party started!
The process is not as tedious as it looks. This is where we have the wonderful opportunity of getting to know each other and making sure you are happy with every product you choose.
I would be honoured to be part of your day and want to make sure that you are happy with everything that we create together, so the more time I can devote to ordering the paper supplies, designing your cards, invites and signages, with printing and assembly, the better!
01 | INQUIRY & CONSULTATION
This is an exciting time! -as you celebrate your love and unity. I am honoured you have chosen me to be a part of your dream wedding! Now, you have decided to get invitations to announce your celebration and the details to your loved ones. Reach out to me through my contact page and we can start chatting about your stationery needs.
I can do in-person design consultation where I show you a variety of paper and color choices that could be used for your wedding stationery. As well as actual samples of lasercut invitation styles that I offer and previous work. However, if in-person is not your thing, consultations are also available via email, phone or skype; and I can show and send you pictures through those platforms!
Once I receive your inquiry, either you book a consultation or just continue your inquiry through email, I will be sending you an initial inquiry questionnaire. This will give me a brief overview of what you are celebrating and looking for.
Based on your answers on the questionnaire and the consultation appointment, I will be sending you a proposal of what we have talked about (note that no design will be made during this time yet). The proposal will consist of an invoice and a contract agreement to sign. A non-refundable fee will be sent to you to ensure a spot in my calendar, and the design process will begin.
03 | MOOD BOARD & WEDDING DETAILS QUESTIONNAIRE
This is when we collaborate in achieving your dream wedding invitation. I want to make sure that I am able to design and illustrate what you have in mind. To help me with this process, I will discuss with you and request that you create a Pinterest board and share it with me. This will provide me with a good sense of style that you like and will lessen the back and forth re-designing of your invitation. Note that the images you will share won't be imitated but will be used as a reference. Non-stationery pictures are preferred.
After this, I will also send you a questionnaire regarding the wedding details to go on your invitation.
With your input, the Pinterest board you're going to create, as well as the details of your wedding, I can begin sketching and you can sit and relax!
04 | SKETCHES & DIGITAL PROOFS
After we have established your style, I'll begin the first round of sketches. We will have the layout finalized and design elements in the invitation before any digital artwork proofs are created. Once you have approved the sketches, I will begin designing the digital artwork. I will be sending you 2 to 3 e-proof design set of your wedding invitation suite.
At this time, feel free to share what you love or don't love about the design or layout. You can interchange pieces from the two designs and a third design will be made. Up to 3 rounds of revisions are offered. Additional revisions after that will be charged.
05 | FINALIZED DESIGN
If you are happy with the design and layout, I will then send you a FINAL e-proof of your custom order. These digital samples are what your order will look like once printed. However, take note of the colors on the computer screen will be slightly different when printed on paper.
PLEASE REVIEW YOUR PROOFS CAREFULLY. Have a friend or a family member proofread them as well. I will not be responsible for typographical errors after you have approved the proof. Once everything is agreed upon and sub-agreement contract signed for the electronic-proof and print release, I will send the proof to printing services.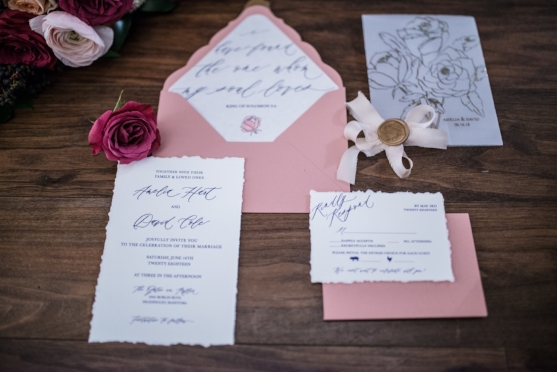 06 | YOUR DREAM INVITATIONS DELIVERED
This whole process usually takes me about 2-3 months to make sure that everything is up to your liking and will maintain the integrity of my business.
I am very excited to get to know you and become a part of your special event! Now let's get to it!